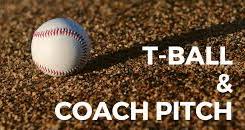 Tee-Ball and Coach Pitch sign-up
Open to Children entering Kindergarten - 3rd Grade
Go online to https://markit.itemorder.com

Enter Sale Code: 5UPPN

Securely check out with your credit card
You should choose the grade that your child will be entering in 2021-2022. Your order includes; T-shirt, visor/hat, and activity fee. If you are interested in coaching your child's team, please select the "coach" shirt for the corresponding team.
DEADLINE: May 11th @3:00 PM
Teams will be assigned and coaches will contact you regarding practices, so please make sure your information is correct.