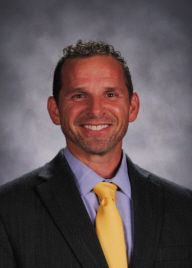 Welcome to the Barneveld Area School District!
It is both an honor and a privilege to serve as the Superintendent of this outstanding school district. We are a PK-12 district in a single school setting with approximately 465 students. Barneveld has a strong history of academic excellence, athletic achievements, and a variety of offerings for all students. We are committed to Empowering our students with the Attitude, Knowledge, and Skills for becoming life-long learners. We accomplish this through cultivating an environment that values curiosity, challenge, cooperation, respect, and creative and critical thinking.
The school is very much a reflection of an outstanding community that provides an incredible amount of support on behalf of our students. Barneveld is a beautiful and scenic community located about 30 miles southwest of Madison, Wisconsin. Positive community support and parental involvement have greatly impacted student learning. This involvement not only draws on an extensive network of experiences and resources, but it also helps our students make connections between what they learn in the classroom and their experiences outside of school.
Parents and community members are an important part of the school and are always welcome here. I encourage you to take every opportunity available to be an active member of our learning community -with your help, we will continue to provide high-quality learning experiences for all of our students.